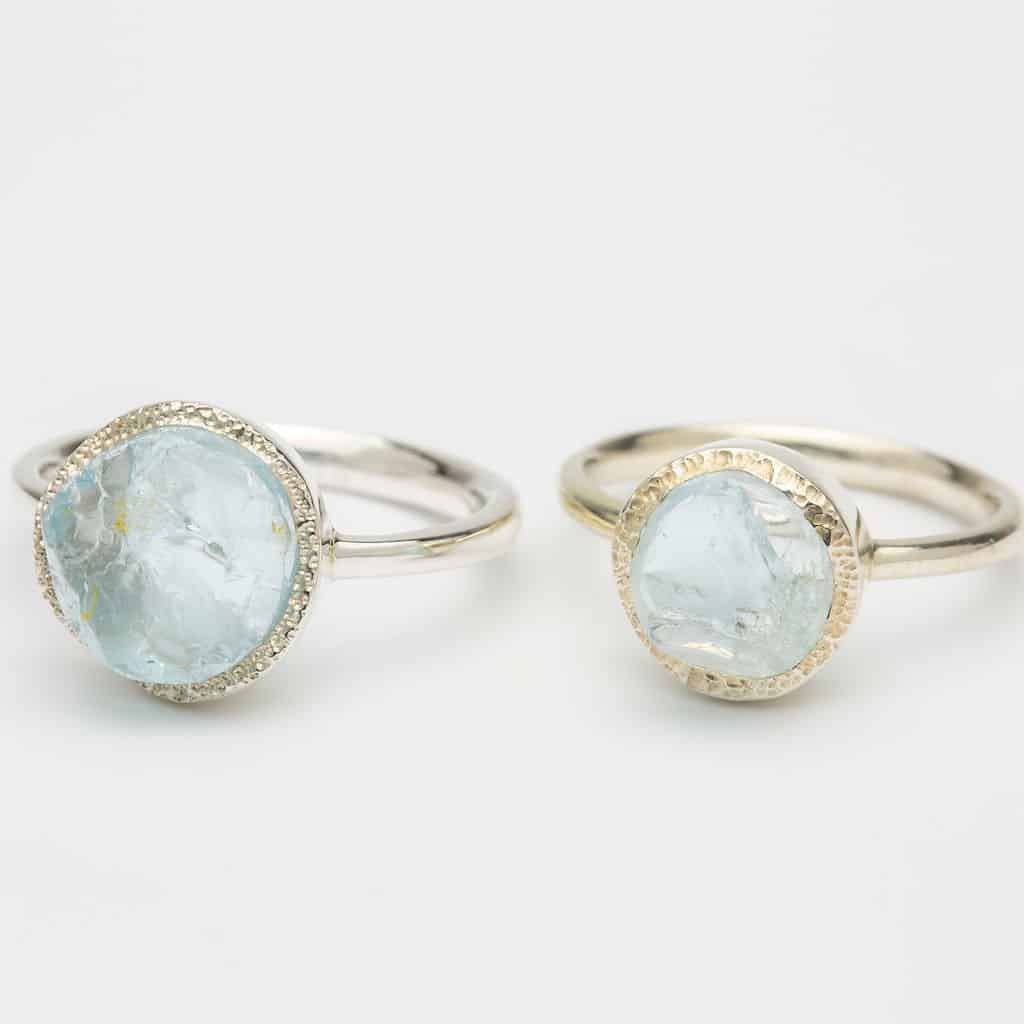 March's birthstone is Aquamarine! Always one of our bestsellers, Aquamarine is such a beautiful colour. Each Koko raw stone is unique and varies in colour making each stone a unique and special gift. A great gift for anyone born in March or a lover of blue! It like all my gemstones has a lot of healing properties
What are properties of this beautiful raw Aquamarine stone?
Aquamarine a type of Beryl and ranges in colour from green-blue, light blue or aqua. It is helpful to singers, teachers or speakers; those who have frequent throat infections as it will help prevent voice loss. It is also associated with dental protection and support and helps the lymph glands, reduces fluid retention, reduces breathing problems and minimises colds and flu. It boosts the immune system and provides the wearer with safe travel over water, as well as helping them gain inner strength and resolve.
Emotionally Aquamarine is particularly supportive for people who experience panic attacks as it provides calmness and balances out any mood swings by calming the mind and allowing it to experience quietness. It is helpful to support being non-judgemental and supports those who are sensitive and able to read others moods and take them on.
Aquamarine is helpful for those who have experienced trauma and looking for closure as it soothes fears and insecurities. It is associated with the throat chakra and the heart chakra. It helps develop trust, and letting go as well as a stone of enabling the truth of a situation to be clear lending heartfelt communication to any conversation.
It is associated with all that is of the sea and is often used as a scrying mirror by healers and shamans in order to gain revelations and explore the dark depths of ourselves and others.
It is also a stone that helps people find their own skills in self-healing and healing of others as it demonstrates compassion, self-responsibility and tolerance, in particular bringing healing and resolution where complaints have been received.
It helps the wearer to balance ego with compassion and peace and navigate change as well as release old emotional patterns or 'baggage'.
It provides a space for the wearer to develop their power in a gentle way helping them to 'yield' when required, express inner knowing and truth.
This is a stone that helps the wearer recognise the ebb and flow of emotional states and how to chart them in order to understand their motivations and insecurities as well as help them balance and navigate the emotional swells. Like the sea, the emotions ebb and flow. This crystal helps the wearer balance and harmonize the emotional state.
Looking for the right piece of Aquamarine jewellery?
If you are looking for a beautiful piece of Aquamarine jewellery my range at Koko jewellery has something to suit everyone. One of my most popular items being small and medium stone rings, As each raw stone is unique if you wish to choose your stone just contact me and I will send you photos of what I have in stock in your size.
Check out all my Aquamarine jewellery here…
Leave me a comment if you are an Aquamarine lover! Feel free to share this blog with other Raw stone lovers. Or perhaps hint if your birthday is this month!
Sophie x
If you are interested in finding out more about how the colour aquamarine relates to your emotions go visit Lana Morris.